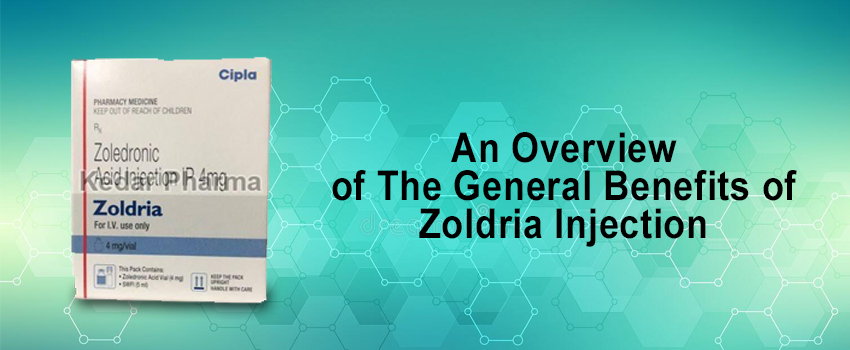 Many of us have heard about osteoporosis but very few of us are aware of its symptoms, reasons and solutions. But before entering into a detailed conversation, it is crucial to know that osteoporosis can be varied. And so the reasons behind them. Today we are going to take into account the matter of menopausal osteoporosis and its solution
Osteoporosis is an ailment which makes the bones weak. For this reason, people can experience sudden bone fractures. Sometimes, the damage seems so intense that it can get reversed. Though there are so many reasons behind osteoporosis but the main one among them is menopause. Menopause is a situation which indicates the stoppage of egg production in a woman's body.
What is Zoldria Injection and Its Use?
Though taking calcium richer foods and nutrients can help to some extent, it needs additional medication to get fully cured. Among numerous medicines for treating this condition, Zoldria injection is a notable one. Zoldria injection is a special category of medicine that prevents bones from weakening. Always choose a reputable Zoldria injection supplier to buy injections at a reasonable rate.
Zoldria injection is also used for treating bone weakness that results due to excessive use of steroids. Using Zoldria injection can notably lessen the threats of bone fracture. Another notable use of Zoldria injections is to treat certain cancer. Some specific cancers can increase the calcium level in the patient's body. In such cases, applying Zoldria injection can curtain the calcium level and help fight cancer.
Composition & Dosage
Zoldria injection contains Zoledronic acid(4mg). Since this is a highly sensitive medicine, Zoledronic injections need to be stored below 30°C. When it comes to the matter of the dosage of Zoldria injection, it completely depends on the doctors. How much dosage a patient would need is always determined by doctors. The dosage of this medicine depends on your underlying medical situation to some extent.
Precautions
Since Zoldria injection is a highly sensitive drug, there are so many precautions that everyone should take while receiving it. A patient should take adequate water before taking this medicine. Otherwise, the person could get dehydrated. While taking this injection, you may be required to make some changes in your diet. Your physician can add or reduce the amount of calcium and vitamin C in your everyday diet.
It may take a week or two to get the evident benefits from this medicine. This is why it is suggested to keep patience. Always remember that never decide on the dosage of Zoldria injection without the consultation of any professional physician. Because it can seriously harm your health. You can get these injections from any reputed Zoldria injection supplier.
If you are a patient with chronic kidney disease, taking Zoldria injections can harm your kidneys more. Taking adequate water before taking this injection is extremely necessary as it can create serious kidney problems. The unnecessary use of this medicine can lower the amount of calcium in your blood and cause jaw pain. So always be cautious with the use. Taking this medicine during pregnancy and breastfeeding is not safe.
Side Effects
Similarly to any other medicine, Zoldria injections also include some notable side effects. Nausea, anemia, fatigue, constipation, fever, pain, vomiting, and breathlessness are some of them.
Advice
While taking this injection, drink adequate water, test your calcium level and kidney functions regularly, and try to reduce your smoking habit. Drinking alcohol is also not recommended when you are taking this medicine.
So these are the overall ideas about Zoldria injection. Always ask your doctor before taking this injection for treating osteoporosis or any other conditions.